I-41 Showdown Presented by Aquire Restoration Returns
Fond du Lac to Host Green Bay at Neuroscience Group Field on June 7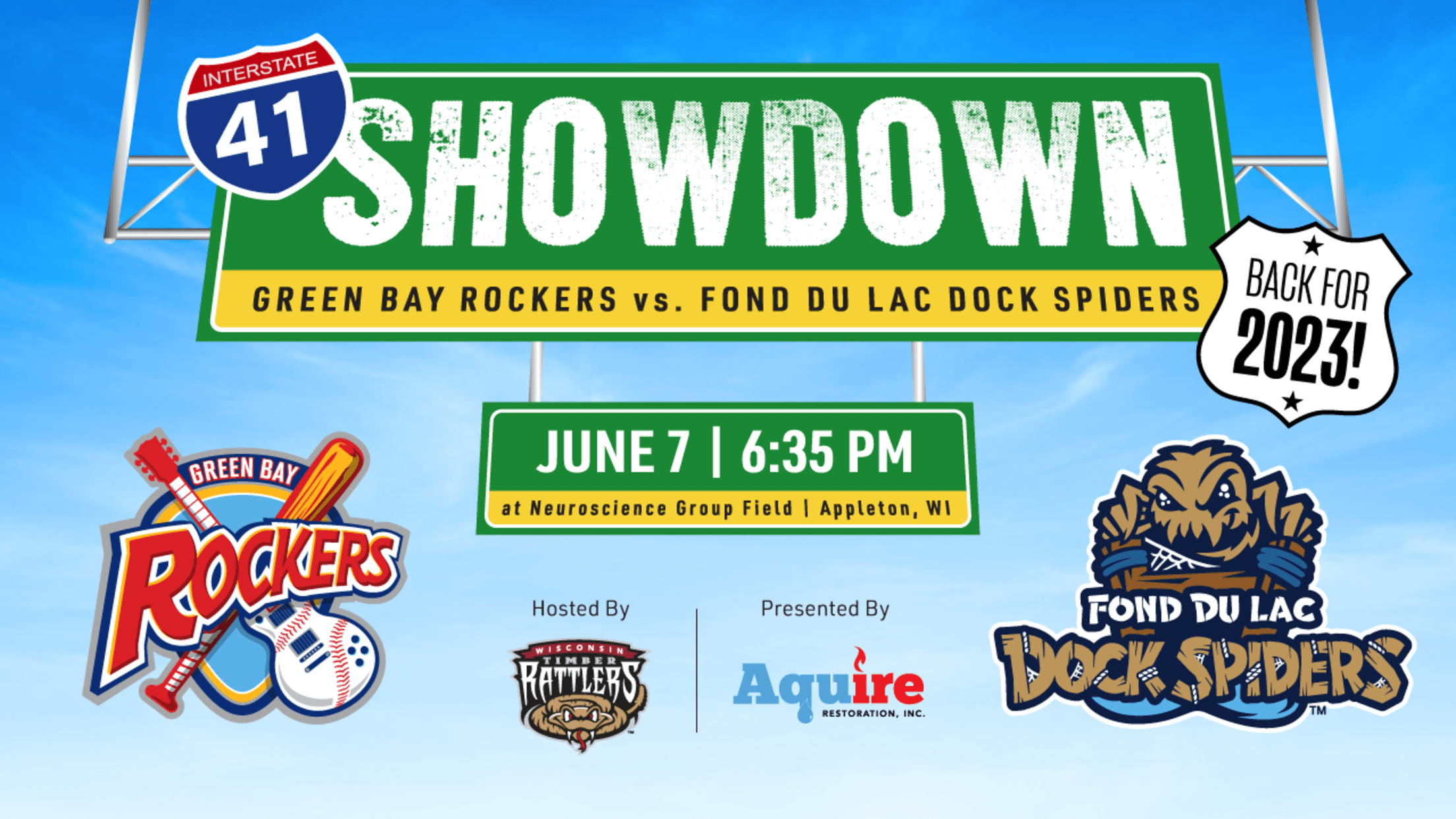 GRAND CHUTE, WI – The Fond du Lac Dock Spiders and the Green Bay Rockers will play the second annual I-41 Showdown at Neuroscience Group Field on Wednesday, June 7. The game is presented by Aquire Restoration and first pitch is scheduled for 6:35 p.m. Last year's contest marked the
GRAND CHUTE, WI – The Fond du Lac Dock Spiders and the Green Bay Rockers will play the second annual I-41 Showdown at Neuroscience Group Field on Wednesday, June 7. The game is presented by Aquire Restoration and first pitch is scheduled for 6:35 p.m. Last year's contest marked the first Northwoods League game played in a current minor league stadium. The two clubs are separated by just 70 miles via I-41 and face each other 12 times this season. Tickets available here!
I-41 Showdown Presented by Aquire Restoration Returns for the Second Time! | Link: https://t.co/fKzHQW7qYz #SpinTheWeb pic.twitter.com/HIvYPaLWfP

— Fond du Lac Dock Spiders (@DockSpiders) January 18, 2023
"The success of last year's I-41 Showdown was one of the highlights of our season," said Dock Spiders General Manager Jim Misudek. "This game provides a first-class experience for players and is a fantastic way for fans from Fond du Lac, Green Bay, and the Fox Cities to enjoy Northwoods League baseball in a unique and special way." "Last year's game was a huge success and the Northwoods League looks forward to returning to Appleton for another game in 2023," said President/Commissioner of the Northwoods League Ryan Voz.
"This game provides collegiate players in the Northwoods League an opportunity to play in a top-notch minor league ballpark. The League strives to provide the best summer playing experience and this game will once again be a highlight."
"When presented with the opportunity to be a part of a new series with these two great organizations, AND, to see it played at Fox Cities Stadium, we were immediately excited!" added Aquire Restoration President Jeff Edmunds. "Why wouldn't we jump at this chance?!"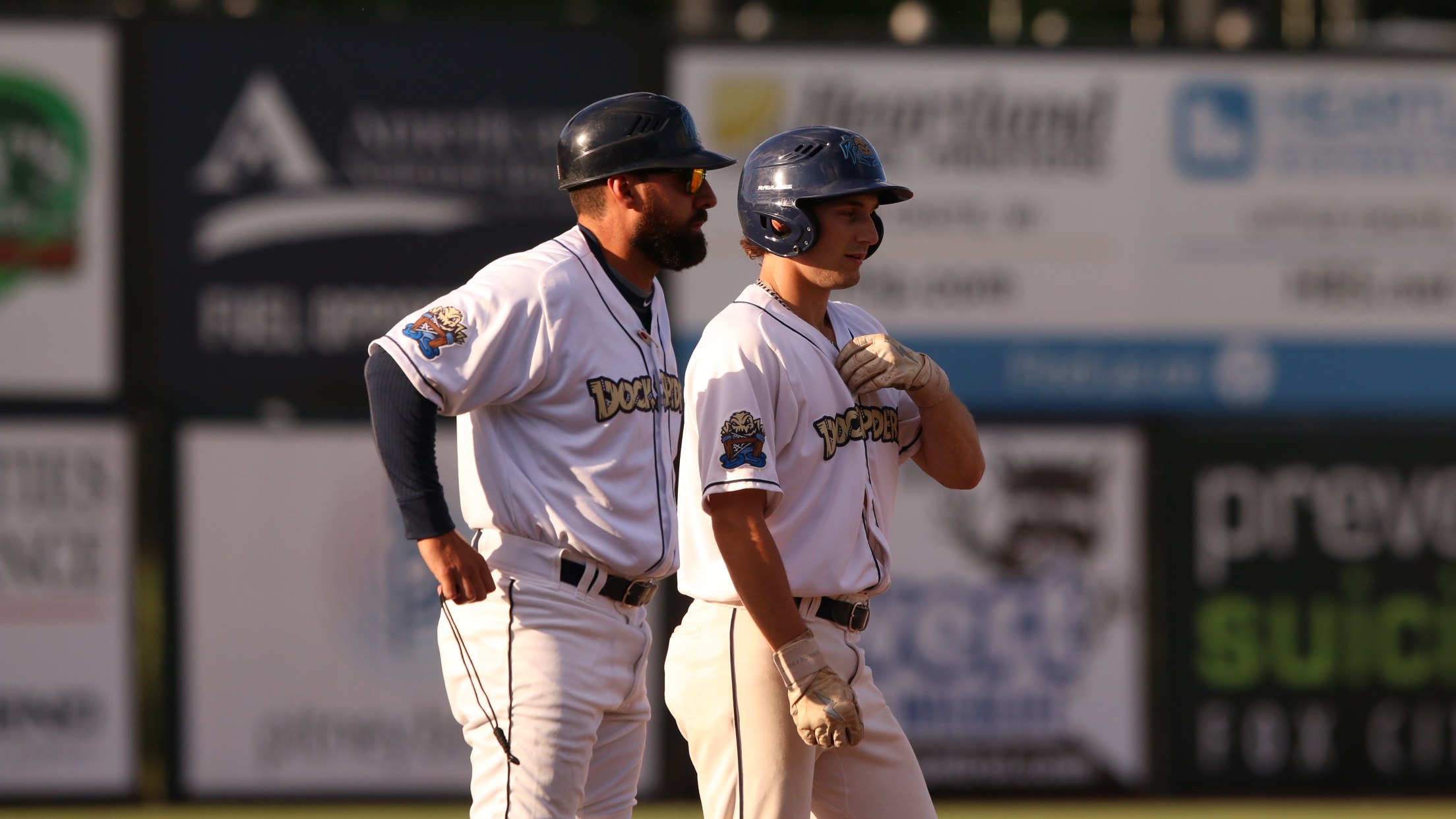 This game falls on a Wednesday, which makes it a "Bang for Your Buck Night." Fans may enjoy hot dogs, 16 oz. Pepsi products, and 16 oz. domestic beers for just $2 each on June 7. Fans who secure Dock Spiders Season Tickets for 2023 will receive a ticket to this game as part of their season ticket packages when season tickets are distributed. Contact the Dock Spiders Ticket Office at (920) 907-9833 for more information.
The Dock Spiders begin their seventh season on Memorial Day (May 29) against the Green Bay Rockers at 1:05 p.m. at Marian University's Herr-Baker Field. Season tickets and packages are currently available at dockspiders.com or by calling the ticket office at (920) 907-9833. For a limited time, each ticket package purchased or renewed includes an exclusive season ticket holder jersey.
The Fond du Lac Dock Spiders are a member of the finest developmental league for elite college baseball players, the Northwoods League. The Northwoods League is the proven leader in the development of elite college baseball players. Having recently completed its' 29th season, the Northwoods League is the largest organized baseball league in the world with 22 teams, drawing significantly more fans, in a friendly ballpark experience, than any league of its kind. A valuable training ground for coaches, umpires, and front office staff, over 300 Northwoods League players have advanced to Major League Baseball, including three-time All-Star and 2016 Roberto Clemente Award winner Curtis Granderson, three-time Cy Young Award winner and World Series Champion Max Scherzer (NYM), two-time World Series Champions Ben Zobrist and Brandon Crawford (SFG) and World Series Champion Chris Sale (BOS). As well as 2019 Rookie of the Year and 2019/2021 Home Run Derby Champion Pete Alonso (NYM) and 2021 All-Star, MLB Gold Glove winner and 2019 Second Team All-MLB shortstop Marcus Semien (TEX). All league games are viewable live via the Northwoods League website. League games are viewable live at watchnwl.com and on ESPN+. For more information visit dockspiders.com or download the new Northwoods League Mobile App on the Apple App Store or on Google Play and set the Dock Spiders as your favorite team.