Guzman, Mendez star on diverse Rangers farm
As system moves on from past trades, duo heads next wave of stars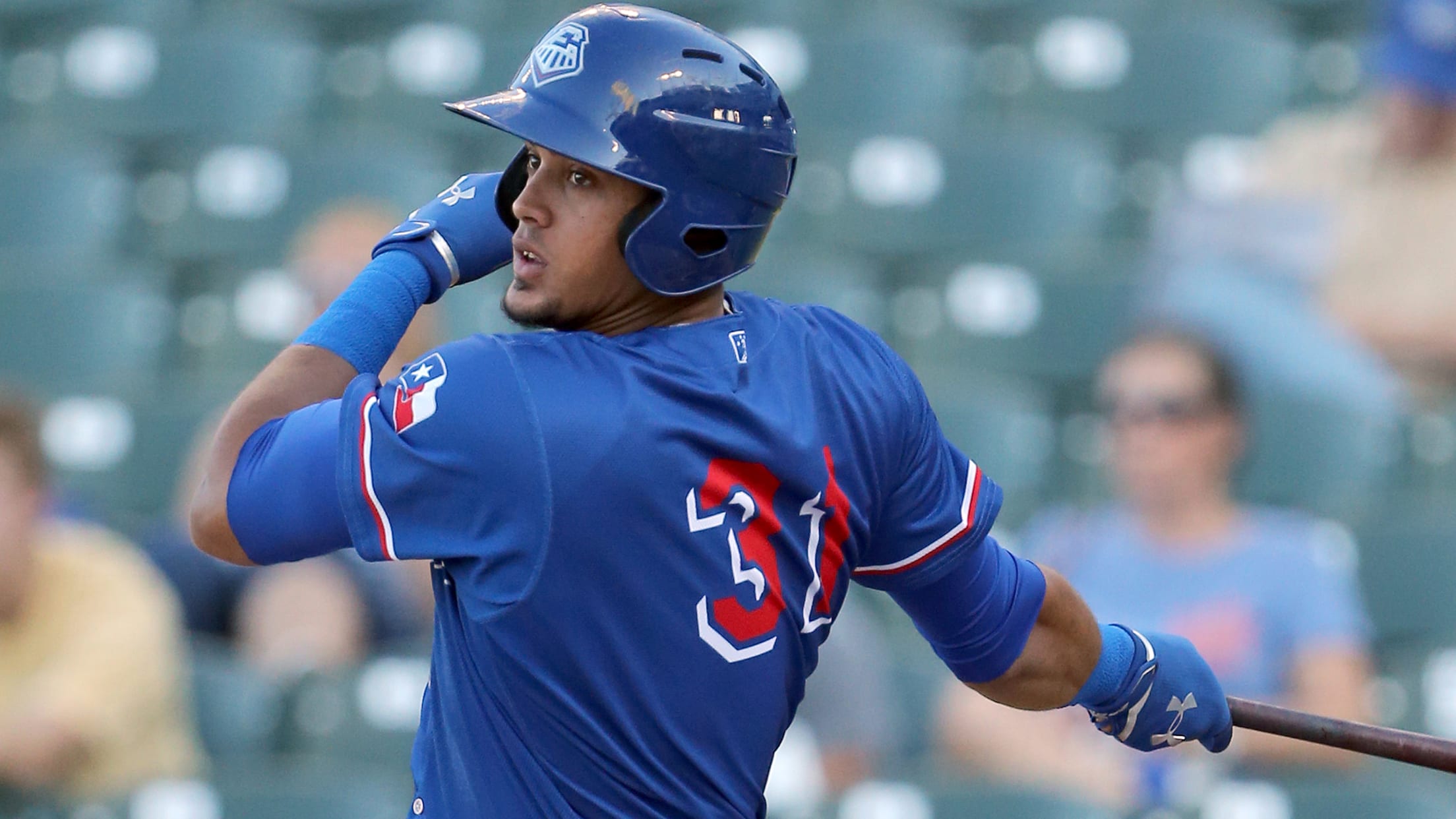 Ronald Guzman has appeared in 150 games with Triple-A Round Rock over the past two seasons. (Jamie Harms/MiLB.com)
This offseason, MiLB.com is taking a look at the most outstanding campaigns by players in each system across Minor League Baseball and honoring the players -- regardless of age or prospect status -- who had the best seasons in their organization.Two years ago, the Rangers boasted one of the most
This offseason, MiLB.com is taking a look at the most outstanding campaigns by players in each system across Minor League Baseball and honoring the players -- regardless of age or prospect status -- who had the best seasons in their organization.
Two years ago, the Rangers boasted one of the most star-studded farm systems in baseball, featuring talented youngsters such as Joey Gallo, Nomar Mazara, Lewis Brinson, Dillon Tate and Luis Ortiz. All of them have since been traded or established positions in the big leagues.
Now the next wave is on its way. Though perhaps not as rich in top-end talent as before, this group features a wide array of players. Although international signings such as Ronald Guzmán and Yohander Méndez lead the way, shrewd Draft picks such as 2014 third-rounder Josh Morgan and 2016 sixth-rounder Kyle Cody made big splashes as well. Texas even brought in talented slugger Willie Calhoun from the Los Angeles Dodgers at the trade deadline, shifting gears after shipping out numerous prospects in blockbuster deals the past two seasons.
Though Rangers affiliates combined for a .493 winning percentage -- 16th-best among all 30 clubs -- the system showed that it has plenty of individual talent worth watching as they progress toward The Show.

Rangers Organization All-Stars
Catcher -- Brett Nicholas, Round Rock (69 games), Texas (21 games):
Nicholas earned his second straight Organization All-Star nod and third in eight Minor League seasons, all with Texas. The 29-year-old led all catchers in the system with a .311 average -- the highest of his career -- while swatting seven home runs and accumulating 38 RBIs. He even put together his longest Major League stint, hitting .238 with the big club.
First baseman -- Ronald Guzmán, Round Rock (125 games): Consistency was the name of the game with Guzman. The Rangers No. 3 prospect spent the entire season in Triple-A and never allowed his average to dip below .288. He finished with a .298 average, 12 home runs, 62 RBIs and an .806 OPS that was his best since debuting in the Rookie-level Arizona League in 2012.
"If you really take away his last couple weeks of this season, it was a lights-out season," said Paul Kruger, the Rangers' assistant director of player development. "He was on the cusp of getting called up. The way we looked at it is, 'Can we continue to improve on what he has established?' He's a big 6-foot-5, 6-foot-6 man and his body is really starting to come together, which is helping him offensively with those long limbs. As we go into 2018, we really think his power is going to show up more than ever."
Second baseman -- Luis La O, Down East (124 games): Debuting as a Minor Leaguer this season, the Cuban-born La O produced across the board in the Class A Advanced Carolina League. The 26-year-old led the Wood Ducks with 53 RBIs, 57 runs scored and 190 total bases. He also finished third on the team with a .292 average and swiped 11 bases.
Honorable mention -- Willie Calhoun had only one month to show Texas what he could do, but MLB.com's No. 60 overall prospect made the most of it by hitting .310 with eight long balls and 26 RBIs in 29 games for Round Rock.
Third baseman -- Isiah Kiner-Falefa, Frisco (129 games): After failing to go deep in his first four seasons as a pro, Kiner-Falefa found the seats five times this year. The rest of his game showed marked improvement as well, as the Hawaii native batted .288 and set career highs with 31 doubles, three triples, 48 RBIs and 17 steals. His performance raised enough eyebrows within the organization that Kiner-Falefa earned a spot on the Rangers' 40-man roster to protect him from the Rule 5 Draft.
"I think he played more games than anyone on our [Double-A] Frisco team," Kruger said. "His versatility is why he was chosen to be on the 40-man. Bat-to-ball skills, gives you a quality at-bat every single time up and is really just that energy and that driving force on a team. Not to mention, he has an ability to play three positions in the infield, catch and even is athletic enough to play center field.… We think that gives him a shot to be a quality Major Leaguer."
Shortstop -- Josh Morgan, Down East (106 games): Morgan is something of an anomaly on this list. The 22-year-old spent the bulk of this season at shortstop, hitting .270 with six homers, 21 doubles and 45 RBIs. But he also made 36 appearances at catcher, a position he continued to study in the Arizona Fall League. The California native made just 17 errors in 581 chances between the two positions in the Carolina League.
"We want to provide him with every opportunity to make it to the big leagues," Kruger said. "He's got bat-to-ball ability really unlike anybody in our organization. But is there a way to extend what he can do? We've got Elvis Andrus, we've got [Rougned] Odor. You've got Adrian Beltre for however long he continues to play. So you've got to find a way to get these guys on the field when they have the ability and bat-to-ball skills that these guys have."
Outfielders -- Scott Heineman, Frisco (117 games): Taken in the 11th round in the 2015 Draft, Heineman followed up nicely on an impressive 2016 campaign. Texas' 24th-ranked prospect failed to match the .891 OPS he posted in the hitters' haven of High Desert last season, but he did produce a .284/.363/.427 slash line with nine homers, seven triples, 26 doubles, 44 RBIs and 12 steals in the Texas League.
"Scotty is a hard-nosed player," Kruger said. "He's one of those guys who is a great teammate to have. He's always pushing his teammates and everybody on the field to give it what they have. He's that fiery engine, and that's fun to have."
Jose Cardona, Frisco (109 games), Round Rock (four games): One of eight position players to appear in over 100 games with the RoughRiders, Cardona finished third on the team with a .277 average and 119 hits, behind only Kiner-Falefa and Heineman. Unlike his teammates, the 2011 international signee earned a late-season promotion to Triple-A. Between both levels, Cardona drove in 47 runs and swiped 16 bases as he moved to the brink of the big leagues.
Miguel Aparicio -- Spokane (70 games), Hickory (25 games): At 18 years old, Aparicio is the Rangers' youngest Organization All-Star. Though he struggled out of the gate in an aggressive assignment to Class A Hickory, the six-foot, 165-pound center fielder found his groove in the Class A Short Season Northwest League. Aparicio led the Spokane Indians in games played, hits (86), average (.293), RBIs (33), runs scored (47) and total bases (116).
Designated hitter -- Alex Kowalczyk, Hickory (90 games): Despite falling to Texas in the 12th round of the 2016 Draft, Kowalczyk put together one of the most prolific seasons in the system. The University of Pittsburgh product compiled a .305/.375/.449 slash line in the South Atlantic League, which would have placed him five points back in third place for the batting title if he had had enough at-bats to qualify. Kowalczyk also finished third among all Rangers Minor Leaguers with 56 RBIs while belting nine dingers and 21 doubles.


Right-handed starter -- Kyle Cody, Hickory (18 games, 18 starts), Down East (five games, five starts): Cody got off to a slow start in his first full season in the Minors, but he righted the ship in a hurry. After going 6-6 with a 2.83 ERA and 101 strikeouts in 95 1/3 innings with Hickory -- including a dominant July in which he allowed just three runs while fanning 41 in 30 2/3 frames -- the 6-foot-7 hurler earned a promotion to Class A Advanced. He was even better in the Carolina League, finishing 3-0 with a 2.05 ERA and 35 punchouts in 30 2/3 innings.
"His sinker, slider, changeup combination was a big part of it, but we wanted him to go through some ups and downs, and that's what you saw there in April and May," Kruger said. "As we transitioned him into Down East, he had confidence throwing that fastball in any count and understood the importance of hitting the edges of the strike zone. That's where we really saw him take a step up."
Left-handed starter -- Yohander Méndez, Frisco (24 games, 24 starts), Texas (seven games): The Rangers' top pitching prospect lived up to his billing. The Venezuelan lefty went 7-8 with a 3.79 ERA, 43 walks and 124 strikeouts over 137 2/3 innings in the Minor Leagues, holding opponents to a .228 batting average. Mendez added to his big league experience down the stretch as well, allowing nine runs -- seven earned -- over 12 1/3 innings in September.
"His biggest thing was he would go away from the heater," Kruger said. "He would want to rely on his Bugs Bunny-type changeup. We had to really instill in him that he can pitch off his fastball. I think when he started to realize that, it made his breaking balls play better and it made his changeup more effective."
Relief pitcher -- Joe Barlow, Spokane (16 games): Pitching for a short-season club, Barlow had just 16 appearances to work with this season. He made the most of them. The 2016 11th-rounder went 6-1 with a 2.00 ERA and racked up 64 punchouts over 45 frames, an average of 12.8 per nine innings. Opposing hitters managed a mere .177 average against him.