Shuckers Fall in Close Affair against Blue Wahoos, 4-3
Tyler Black extends on-base streak to 25 games in loss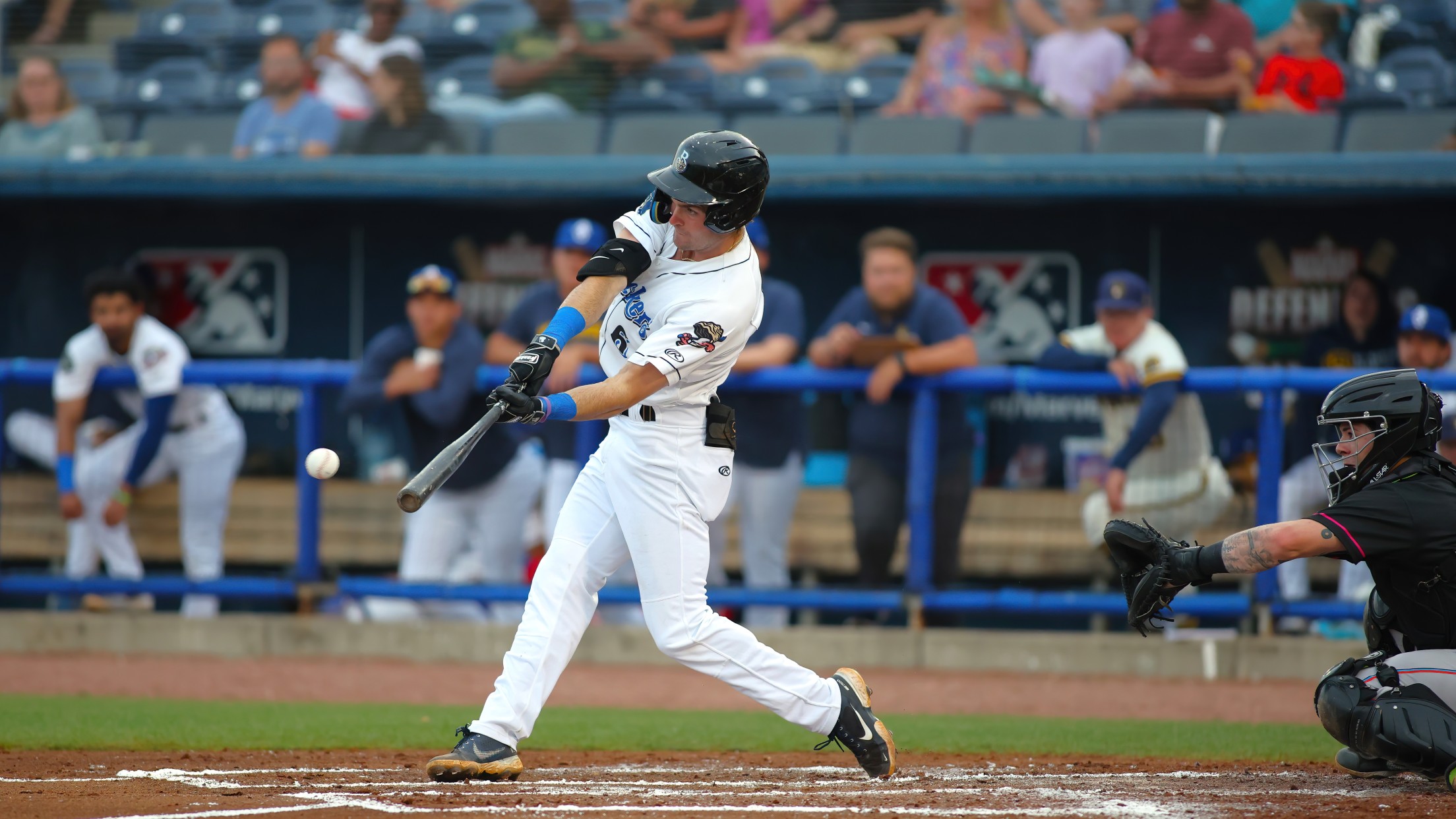 (Mike Krebs)
BILOXI, MS – In a game marked by two-run swings, the Pensacola Blue Wahoos (29-18) used two solo home runs in the eighth inning as the Biloxi Shuckers (24-23) fell, 4-3, on Wednesday night at MGM Park. The loss for Biloxi split the first two games of the series with
BILOXI, MS – In a game marked by two-run swings, the Pensacola Blue Wahoos (29-18) used two solo home runs in the eighth inning as the Biloxi Shuckers (24-23) fell, 4-3, on Wednesday night at MGM Park. The loss for Biloxi split the first two games of the series with Pensacola.
In the first, Biloxi's Tyler Black reached on a single that extended his on-base streak to 25 consecutive games, two shy of the franchise record held by Cooper Hummel.
The Shuckers scored first off an error in the second inning that scored Lamar Sparks from second, who smashed a two-out double to the wall in left-center. In the third, Pensacola tied it with an RBI double from Victor Mesa Jr. that deflected off Shuckers' starter Tobias Myers. Myers, however, stayed in the game and finished the inning with a strikeout.
In the top of the fifth, Pensacola took a 2-1 lead off a solo home run from Troy Johnston, his team-leading ninth of the year. Biloxi used a single from Isaac Collins in the bottom of the inning to tie the game back at two.
The lead then swung Biloxi's way in the seventh when Ethan Murray reached on a walk and stole second. Felix Valerio tallied a hit in his third straight game with a single to left that scored Murray and gave the Shuckers a 3-2 lead.
One inning later, Will Banfield and Norel Gonzáelez smashed solo home runs that gave Pensacola a 4-3 lead. The inning ended with a collision between outfielder Isaac Collins and shortstop Freddy Zamora. Zamora exited the game, but walked off the field under his own power.
The Shuckers threatened with a one-out double from Jeferson Quero in the eighth. He later reached third but was stranded after a hard line-drive from Wes Clarke was caught at first by Johnston. In the ninth, Blue Wahoos' closer Sean Reynolds stranded the tying run with a deep flyout to center that notched his eighth save of the year and closed out a 4-3 Shuckers loss. The loss was Biloxi's 14th by two runs or less in 2023.
The two teams are set to meet at 6:35 p.m. on Thursday at MGM Park. Righty Christian Mejias (2-3, 5.45) will start for Biloxi against Evan Fitterer (4-1, 2.25).
The first 1,000 fans at MGM Park are set to receive a Shuckers' themed Beach Towel Giveaway presented by Beau Rivage. The award-winning Jabbawockeez will also put on a performance pregame at the ballpark and interact with fans on the concouse. It's also Thirsty Thursday presented by Yuengling, Coca-Cola and Kicker108. Fans can enjoy $2 Yuengling drafts, hot dogs and sodas with $4 draft beer specials on Miller Lite. There's also the 'Thirsty Thursday Deal,' which includes a Reserved Level ticket and two drink vouchers for $14 in advance.
Individual tickets, group outings, Shuck Nation memberships and Flex Plans for the 2023 Biloxi Shuckers season are available now by calling (228) 233-3465 or visiting biloxishuckers.com.
ABOUT THE BILOXI SHUCKERS:
The Biloxi Shuckers are the Double-A Affiliate of the Milwaukee Brewers. The Shuckers are members of the Southern League and play at MGM Park in Biloxi, Mississippi. For more information please visit biloxishuckers.com and follow us on Twitter @biloxishuckers and at facebook.com/biloxishuckers.
ABOUT SHUCKERS BASEBALL, LLC:
Shuckers Baseball, LLC is a MS entity owned and operated by John Tracy. Shuckers Baseball operates the Biloxi Shuckers baseball franchise, including operating MGM Park for Biloxi Shuckers minor league baseball games and other entertainment and recreational events.